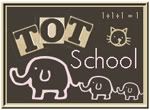 Raccoon is 36 months
Here's a peek at our
Tot School
this week. It's been our first full week in awhile, so there are lots of pictures. Mostly the really long posts are for me because I know that when the baby comes in 15 weeks (end of January), everything will be different. I want to remember this time, as crazy as it is sometimes.
I was a little late putting our board together for this week, so we only did it twice. Raccoon's favorite part is the person, (George Washington Carver this week) and the nursery rhyme which we act out. The other things are a
spooky maze
, along with the verse and "I Can" page from
Raising Rock Star Preschool Ii
, and a song about George Washington Carver from Scholastic's
Famous Americans
.
These are magnets from a Melissa & Doug calendar, but Raccoon enjoys playing with them on the fridge.
I tried to take the tape off after the paint had dried, but it stuck to the construction paper too much, so I ended up leaving it on. I helped Raccoon with the face on his monster, the spider hanging from the ceiling, the black around the edges of the house, and the orange duck footprints on the left. He called the big black blob a "scary shadow."
I think Raccoon's favorite part was helping me to put the noodles into two jars when it was time to put them away.
Once his treasure was safely packed into the chest, he wanted to dress up in all his pirate gear.
And once the dressing up starts, Spiderman is sure to follow! He just got the mittens and Spidey hat from his Grama and he was excited to finally have the complete costume, right down to his Spiderman slippers.
After Raccoon put them in randomly, the leaves fell off the tree for fall, then in the spring they grew back. I asked him to pass me a certain size (small, medium or large) and I put them in order by height.
We did the classic baking soda and vinegar "volcano." Raccoon loved squirting the vinegar into the medicine cup and watching it fizz. He asked if it was soda, but tasted and smelled it to disprove his hypothesis. :)
Raccoon is going through a sorting phase right now, so we organized his play food into groups before he went shopping one morning. We did bread/carbohydrates, fruit, vegetables, meat/protein, dishes, and a desert section. He decided to start shopping in the desert section first.
We called the nails "hair" and then I carved a face into the watermelon per his instructions.
At the end of the week, I saw him doing this on his table and he told me, "I'm making a game for you, Mama." I asked him, "How do we play?" He replied, "With water" (the napkins under the noodles are soaking wet).