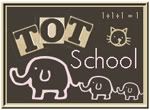 Raccoon is 35 months
I wasn't going to do anything special for
Tot School
this week since our printer was broken again, but one day Raccoon got out his notebook, lined his pencils up carefully, and told all of his stuffed friends, "I can't play, I'm going to do homework." I decided to reconsider and instead of focusing on
landforms
, I switched to a week of sensory play.
It was a good reason to finally get around to organizing the different materials I have for sensory bins. I keep one bin of just plain rice (the one he's playing with below), and I sorted our other things (pistachio shells, rocks, beads, salt, etc) into some miscellaneous plastic containers. I have a slotted metal ladle that is perfect for this because the rice falls through but it catches everything else, saving me a lot of time. This kind of play holds Raccoon's attention the longest (15 - 30 min) out of any of the activities we do.
For Raccoon's 3rd birthday (this month!) my mom sent him a whole bunch of shells. We visited a friend awhile ago whose son had a shell collection and Raccoon was fascinated, so I asked my mom if she'd be willing to give us some of her extras. She sent two large containers, way to go, Mom!
Raccoon had a great time burying them in the "sand" (rice box), along with using them to dig and pour. It was nice to be able to pull out just my rice box and add the shells to it. If we ever make it to the beach, I hope to bring back some real sand to add to our sensory collection.
What would a sensory week be without some good old-fashioned water play! Raccoon watered all of the plants on the patio (and our dogs), then decided to water himself.
Raccoon loves to make what he calls "pancakes" out of play doh. I roll them out, then we stamp them together and make a great big pile. I thought I would make our play doh time a little more "educational," so I started stamping the letters beside the animals. Raccoon was not pleased and refused to play until I put the letters away. Ha ha and oh well. What you can't tell from the picture is that we're also listening/watching one of Andre Rieu's concerts on DVD.
Later in the week I decided to add some spooky activities to our playtime. Since it's just him and me at home, we can indulge in his love of scary things without making it too terrifying. Sometimes I tell him stories about a little boy named Peter who has a friend named Pepe, a skeleton who is covered in red paint that others think is blood (Peter helps fix Pepe when the paint washes off). I saw the idea for a
pasta skeleton
and told Raccoon we were going to make Pepe. I felt excited that Raccoon was into an art activity involving fine motor skills and following directions. He glued on the pasta arms and legs, then I finished placing the rest because he was impatient to start painting with "blood."
Then we did handprints - one for me and one for Grama.
At first I had to sit by with a napkin handy to wipe the paint off his hands, then Raccoon decided to become a scary skeleton and he painted himself.
The next day as soon as he got up we started working on his "scary house." He painted some "blood" on the outside, then sat down to make an
egg carton bat
to hang on the inside.
After we hung the bats inside, Raccoon's stuffed friends took turns going inside and screaming in terror. We may continue working on his house next week as all of the spooky activities were a big hit.