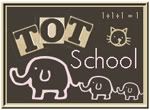 Raccoon is 36 months
The moose stood in for Hilda since we don't have a stuffed hippopotamus. Satisfied that his valentine and cutouts made her feel better, Raccoon headed off to bed.
After we did the haunted house, for the first time my son asked if I had more games like this one, so I let my son play with the pumpkin cutouts and matching sheet before I did the magnets. After matching everything correctly, he made up his own game using both sets. Later when he saw that I'd glued the magnets onto the pumpkins, he told me, "We already did that, Mama!" Ah, my son, the king of no-repetition.
Next he decided that we needed to go on an expedition, and these were the provisions that he wanted to take along - his battle axe, his current best friend "Cheetah," the map, his laptop, and Melissa & Doug's Noah's ark.
Then we made him a boat (a plastic toy box with a rope tied around it for me to pull) for the expedition. Thank goodness we have tile floors. Captain Raccoon would consult his map and tell me where to go. Our couches were plateaus, the floor was the ocean/river, one corner of the room was a cave, etc. And as with all Raccoon activities, the faster he arrived the better!
Later in the week (when I finally finished putting together all of the mini-books), he pretended to be a teacher and "read" or showed each of them to his class of plastic animals.
But mostly this week we just played with toys we have around the house. One of his recent favorites is this set of magnets. I bought them at a yard sale awhile ago and he likes to "go fishing' with them. He builds himself a pole and I put together some shapes (2D and 3D) for him to "catch." Or we make an aquarium with starfish (below), a zoo with centipedes, or whatever. We usually end by trying to use all of them to make one big cage.
We got out his marble run this week as well, which I finally managed to assemble so that it didn't constantly fall apart. This is fun, but sometimes we both get frustrated with it coming apart before we actually get to use it. It's a great lesson in patience (for both of us!) and in "being gentle." This day we were quite successful though and played with it for maybe a half an hour or so.
His favorite toys are actually his plastic animal/bug collection. We have a large basket full of dinosaurs, zoo animals, marine animals, insects, spiders, etc. and he plays with them again and again. I could write a special post just on all of the uses we've found for his plastic animals (habitats, sorting, classifying, carnivores/herbivores, predators/prey/food chains, classmates, spectators, good/bad guys, etc.). These are some of his newest additions, a birthday present from me to him.
And of course there was lots of pretend play! Here's builder Raccoon making a house.
Building Blocks - I made the basic monster and Raccoon decorated it with fences, a giraffe hat, people, plants, etc.
Adding some "thorns" to Mouse's tail.
He doesn't like clipping clothespins to cards, but he loved doing this!
Cooking
Cars
We didn't do any Raising Rock Star Preschool this week and I hope to resume this next week with the
letter Ii
.
The End! :)